For many homeowners, the idea of adding some under kitchen cabinet lighting is enticing. Often, the space directly below the upper cabinets is a bit shaded as the cabinets prevent some overhead light from reaching the wall underneath as well as the counter. But, with under-cabinet lighting, you can overcome this issue. Here's what you need to know about under kitchen cabinet lighting.
Why Install Under-Cabinet Lighting in Your Kitchen
Most kitchens rely heavily on overhead lighting. Since the upper cabinets extend over counters, the light might not cover all of your counter space. That can make a kitchen feel darker than it is, which isn't ideal.
Plus, activities like preparing food on the counter can be more challenging since the upper cabinets block some of the light. It can make it harder to see what you're doing. Not only is that problematic when you are doing something highly detailed, but it can also be a bit dangerous.
By installing under kitchen cabinet lighting, you make sure these shaded areas have an alternate source of light. Your kitchen will be brighter overall. Plus, you won't have to worry that you don't have enough light when you handle nearly any task.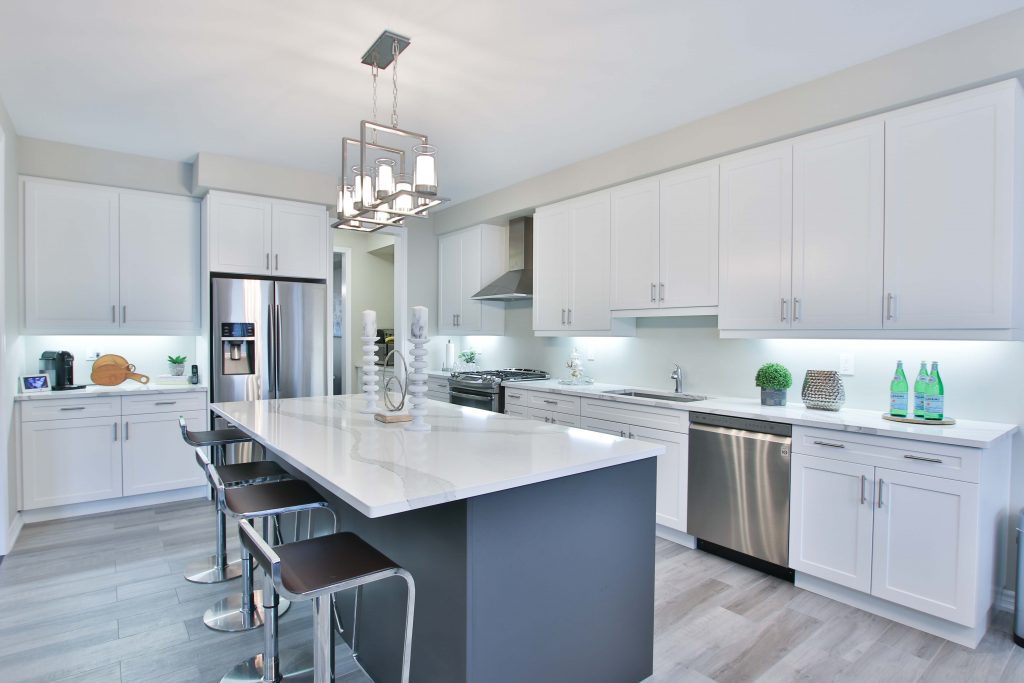 Choosing Under Kitchen Cabinet Lighting
When you select under-cabinet lighting, you need to take a few things into account. For example, the types of bulbs and fixtures impact the overall look. While fluorescent tubes were a popular option, many homeowners didn't care for the color, intensity, and glare created by these lights. Plus, the fixtures could be incredibly bulky.
Before you buy under kitchen cabinet lights, you need to decide what light quality and fixture size you want. You might prefer halogen, xenon, or LED bulbs, and might think that a hockey puck design is better than a strip for your needs. Some of these decisions are personal, while others are functional, so you need to envision your ideal space to narrow down your options.
Additionally, you need to be aware of the amount of heat a lighting solution produces, as hot lights could damage your cabinets and anything you store in them. Xenon bulbs tend to run hotter than some other options, so you'll want to take that into consideration as you shop.
Finally, you have to respect your budget. Different fixtures and bulb types come with different price tags, so your choice may be limited if you need to keep the cost down.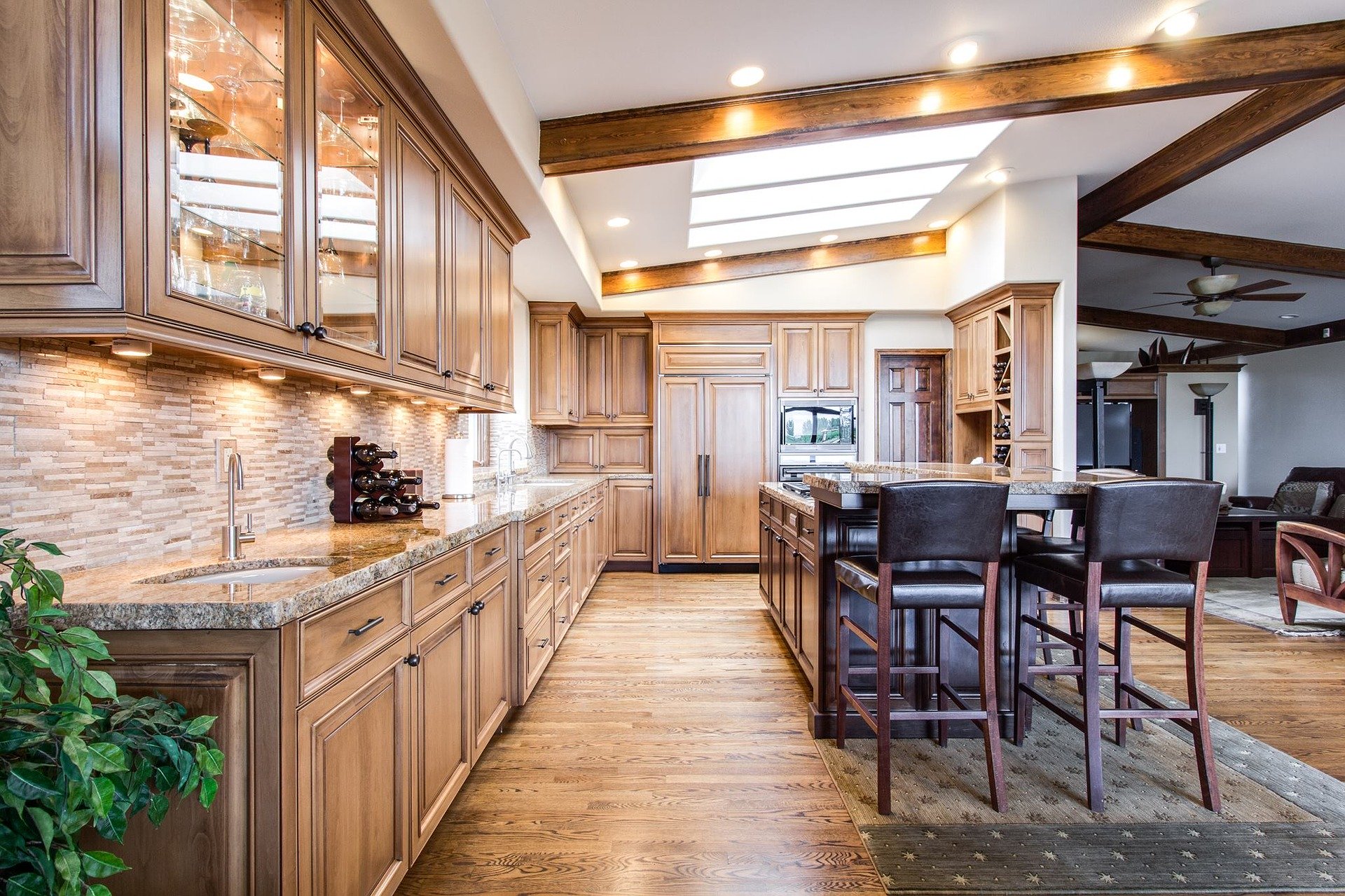 The Best Under Kitchen Cabinet Lighting for Your Home
If you are struggling to figure out what the best under kitchen cabinet lighting for your home is, here are some options worth considering.
78 LED Rechargeable, Dimmable, Motion Sensing Under-Cabinet Light
With this 78 LED Under-Cabinet Light, you get a surprising amount of control. You can adjust the brightness and set it to only come on when it detects motion, which is great for saving energy. Installation is also a breeze. The fixture is magnetic, so you can attach it to a magnetic surface or add some magnetic strips to your cabinets, eliminating the need to screw it in.
Brilliant Evolution LED Puck Light 6 Pack with Remote
The Brilliant Evolution LED Puck Lights are very compact and give you the ability to spotlight only areas that need extra lighting. They stick on, so they can be installed on nearly any cabinet. Plus, you can control them with the included remote, allowing you to turn them on or off, or adjust the brightness, without touching the lights directly. There's also an auto-off timer for added convenience. They are battery-operated, and typically offer at least 100 hours of runtime before the batteries need to be changed.
American Lighting Xenon Under Cabinet Hardwire Light
If you prefer the light produced by xenon bulbs and want to hardwire your lighting, the American Lighting Xenon Under Cabinet Hardwire Light is a solid choice. The casing is fairly slim, so it isn't incredibly obvious once installed. Plus, you can choose either white, dark bronze, or brushed steel for the housing, so you can pick a look that works best in your kitchen. For added convenience, you can link several fixtures together, allowing you to operate a set of lights from one switch.
4. GE Fluorescent Under Cabinet Light Fixture
For those who prefer the warm light produced by fluorescent bulbs, the GE Fluorescent Under Cabinet Light Fixtureis a cost-effective choice from a brand that is largely trusted by the masses. The housing is white, so it's fairly unobtrusive. Plus, you get a five-foot cord, so you don't need an outlet right nearby to plug it in. It's a pretty basic option, but it could work well if you have a small budget.
5. Wobane Under Cabinet Lighting LED Strips
Possibly the most discrete option available, LED strips can be installed under cabinets pretty easily. The Wobane Under Cabinet Lighting kit includes six-and-a-half feet of LED lights, allowing you to cover a lot of space. Plus, it doesn't require much power to run and is very low heat, making it a solid choice for kitchens.