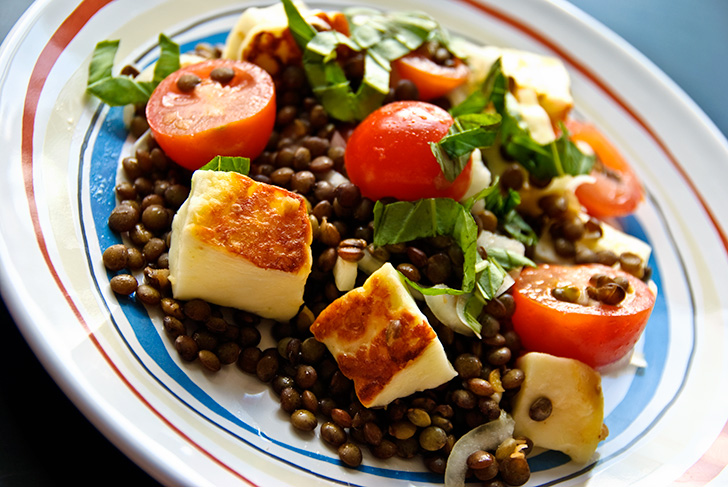 Puy lentils, lentille du Puy, (or French green lentils) come from the Le Puy region of south-central France. These small, green, peppery lentils are often called 'poor man's caviar' in France. I hadn't really eaten lentils, outside of the occasional curry, before our trip to France a few years ago. But Puy lentils have since become of favourite. They do taste better than regular green lentils and the texture is much better for salads like this one. If you can't find them at your local grocery, these ones from Amazon are good.
If, like me, you've never cooked puy lentils before, don't be intimidated. Rinse the lentils in a colander until the water runs clear.  You can cook them in stock or water with a bit of salt. Boil them for about 25-30 minutes. They should be slightly al dente. Drain off any excess water and you're done!
Halloumi (or haloumi) was something completely new for me and I am now in love. This salty cheese is a mixture of sheep and goat milk and comes originally from Cyprus. It can be found in Greece and Middle Eastern cooking as well. The interesting thing about this cheese is that you can fry or grill it and it doesn't lose its shape.
I have been wanting to experiment with this cheese for some time now, so when I found this recipe for puy lentils with grilled halloumi I had to give it a go.
Here's the recipe as I cooked it (because you know I had to tweak a bit):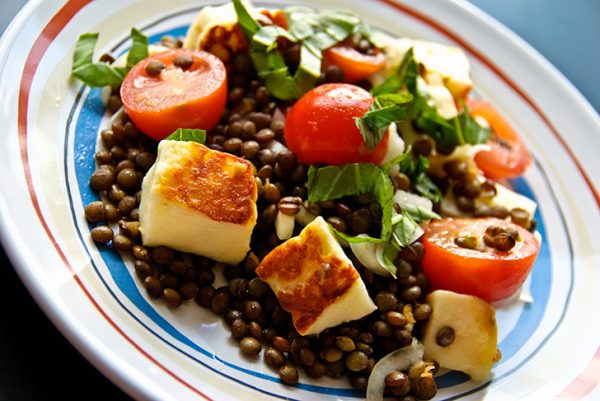 | | |
| --- | --- |
| | |
Toss the tomatoes, onion, garlic, lemon juice and oil in a bowl.

Cook Puy Lentils until tender, drain and add to the bowl.

Chop Halloumi into cubes and fry in a splash of olive oil until golden.

Add fried Halloumi and basil to the bowl and mix well.
It's easy and delicious and I will definitely be making this again soon! Have you cooked Puy lentils or Halloumi? Share your comments or recipes below.