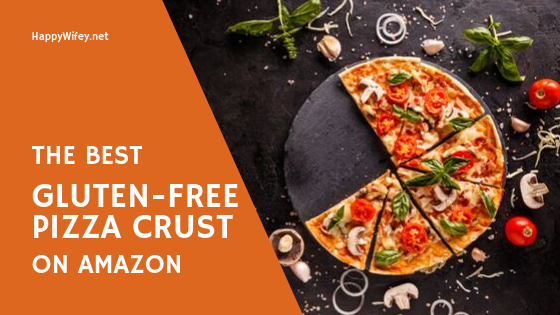 When you go gluten-free, you might struggle to find alternative ingredients for your favorite meals. Luckily, if you adore homemade pizza, there are a surprising number of high-quality gluten-free pizza crusts available. Plus, you can order many of them on Amazon, allowing you to get your dough sent directly to your door.
If you are looking for a convenient way to make homemade pizza and have a restricted diet, here are the best gluten-free pizza crusts on Amazon today.
Udi's Gluten-Free Thin & Crispy Pizza Crust
Udi's aims to provide those who live gluten-free with amazing ingredients that can help them make delicious food. The Udi's Gluten Free Thin & Crispy Pizza Crust (shipped frozen) doesn't have any gluten. Plus, it's dairy-free, soy-free, and nut-free, allowing it to work for people with other diet restrictions too.
Cooking with this pizza crust from Udi's is very simple as well. Just add your choice of toppings and bake. You don't even have to thaw it first if you'd rather not. However, if you do, it still has a shelf life of seven days on the counter. By leaving it frozen until you are ready to use it, the pizza crusts can last up to six months in the freezer, allowing you to stash them to use as a quick dinner when the need arises.
Each pack contains two pizza crusts, making it great for a family of four.
Bob's Red Mill Gluten-Free Pizza Crust Mix
For families that prefer thicker pizza crust, Bob's Red Mill Gluten-Free Pizza Crust Mix is a great option. Since you are making your own dough, you have more control over the thickness and size. Just follow the package directions to create your dough and adjust your baking time as needed to get your ideal pizza.
Plus, you get the experience of cooking from near-scratch by using this pizza crust mix. While the dry ingredients are more or less ready to go, you do go through the mixing and rising process. If you cook with children, this can be a great way to introduce them to cooking, as it isn't as complex as combining all of the dry ingredients but still makes creating a pizza an experience. Just use the time the dough needs to rise to prepare toppings, like fresh-cut veggies or homemade sauce.
gfJules Gluten Free Pizza Crust Mix
gfJules Gluten Free Pizza Crust Mix features all of the dry ingredients you'll need conveniently combined together. Making a pizza using this mix is incredibly straight forward, and you get the ability to adjust the size and thickness of your dough if you prefer.
This gluten-free pizza crust is non-GMO and is also nut and soy-free. While the mix itself is vegan, the recommended recipe does contain eggs, so it's important to seek out a substitute approach (like a vegan egg replacer and a bit of xanthan gum) if you are a gluten-free and vegan who wants to use this mix.
Schar Gluten-Free Pizza Crusts
Another ready-to-use option, Scar Gluten-Free Pizza Crusts are a fast and easy way to have a gluten-free pizza at home. The cooking time can be as little as 15 minutes, making it a great option for quick meals when you don't want to do a ton of cooking. Many people also appreciate that these crusts are a bit thicker than some other premade gluten-free pizza crust options, so they might support more or heavier toppings with greater ease.
Each package contains two pizza crusts, giving you the ability to craft pizzas with different toppings for feed a family of four (up to six) with a single package. Plus, these crusts are shelf-stable, so you don't have to worry about freezing them when they arrive.
Simple Mills Almond Flour Pizza Dough Mix
Featuring an incredibly simple ingredients list and no artificial preservatives, the Simple Mills Almond Flour Pizza Dough Mix is a great choice for families that want thicker pizza crust. The ingredients are non-GMO, vegan, and paleo-friendly too, making this mix a solid option for people with a range of dietary restrictions or preferences. Plus, it doesn't require eggs or other animal products in the pizza crust recipe, so the end result is vegan, too.
Each box contains enough ingredients for two pizzas, allowing you to make them both at once or save half of the ingredients for another meal on a different day. When using the whole thing, it could easily feed a family of four to six, depending on ages and appetites.
Plus, when you buy multiple packs at the same time, the Simple Mills Almond Flour Pizza Dough Mix is a bit cheaper than many other gluten-free crust options. If you make pizzas regularly, a few bucks saved on every meal adds up fast, which makes this mix better for gluten-free families on a budget.