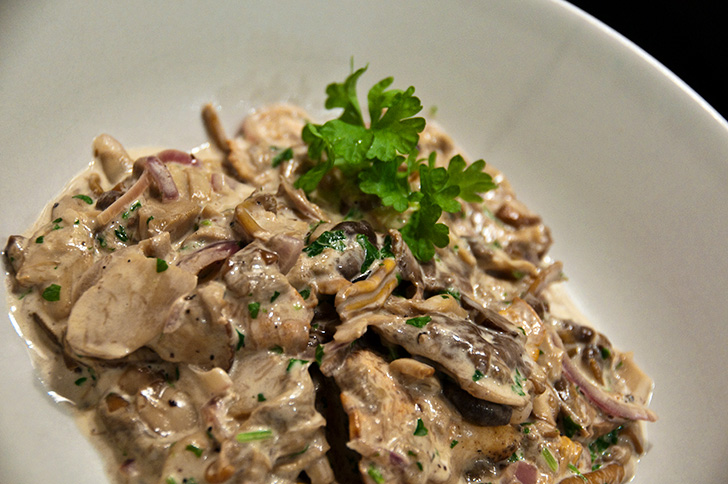 If there's one thing I love about autumn, it's wild mushroom season. My hubby's Mom is a pro forager and I've learned so much about wild edibles from her. While she's in the woods all year long, picking wild goodies, fall is my favourite when she brings in baskets of incredible mushrooms.
[Super important caveat: Don't go picking mushrooms in the wild unless you are 100% sure you know what they are. Some of the deadly poison mushrooms look similar to their edible cousins so if there's any doubt leave them alone.]
I know there are folks out there who won't eat mushrooms other than those bland white buttons at the grocery store. If you haven't eaten wild mushrooms like cepes or chanterelles, trust me, you owe it to yourself to taste them! I just can't get enough of those delicious little fungi.
Last night I had my first wild mushrooms of the season. so I decided to try out a new recipe. My Wild Mushrooms in Cream recipe is adapted from one in my favourite Jamie Oliver cookbook, Jamie Oliver's Food Escapes. It was so easy and delicious I wanted to share it with you.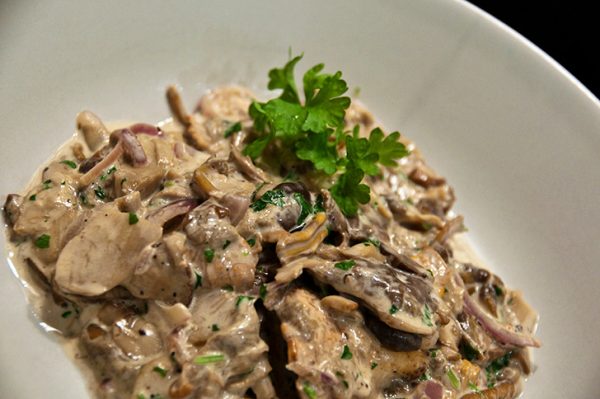 | | |
| --- | --- |
| | |
Clean your mushrooms carefully with a mushroom brush or damp paper towel. The less wet you get the mushrooms the better so don't soak them.

Melt butter in a hot frying pan. When bubbling add your onion.

When the onion has softened, add your mushrooms and season liberally with salt and pepper. Cook 8-10 minutes.

Add cream and mix it with all of the mushroom juices. Add parsley and cook for 2 minutes or until the cream is bubbly.

Remove from the heat and add lemon juice to taste. Garnish with a bit more fresh parsley and pepper.

Serve with some crusty bread or over pasta and pair it with a crisp white wine.
Do you love wild mushrooms too? What's your favourite way to eat them?