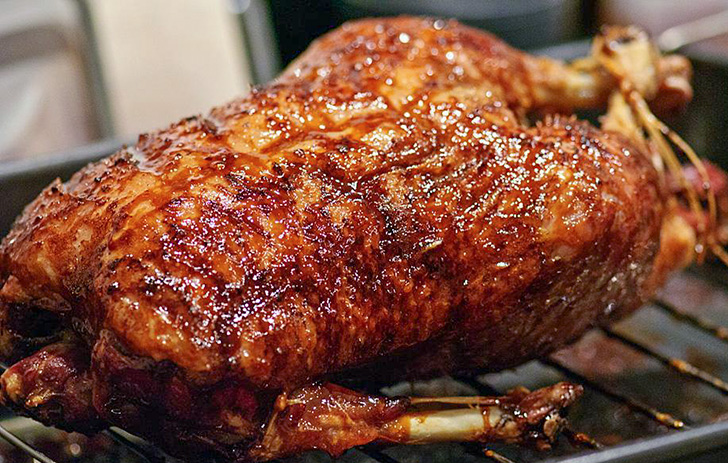 Up until recently, I was intimidated by the prospect of roasting a whole duck, but I'm so glad I tried it. It was quite possibly the most delicious thing I've eaten in months. I wanted to share the recipe with you and encourage you to give it a try.
I'm not entirely sure why I was afraid to try roasting a duck. I roast chickens and turkeys with great success, and I love cooking duck breast. For some reason though, the prospect of cooking the whole duck was a bit scary.
I think part of the problem was I had never even eaten duck before our trip to France. Duck isn't a common sight on menus around these parts unless you're at a Chinese restaurant. When we visited the farmer's market last week though, I spotted fresh, local duck and had to buy one on the spot.
I searched the internet high and low for a good roast duck recipe. As is common for me, I ended up combining a few different recipes and coming up with my own version. (Mostly because I never have all the ingredients on hand I need to follow someone else's recipe faithfully!)
I've added Amazon links to a few of the harder to find ingredients below, in case you can't buy them at your local store: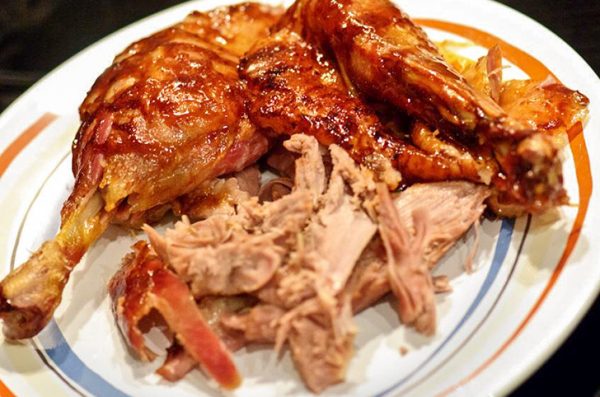 | | |
| --- | --- |
| | |
Preheat your over to 300F.

Wash your duck and pat it dry with paper towel. Cut off any excess fat, especially around the neck and tail then truss it.

Score the duck skin in a criss-cross pattern and poke it all over with a sharp knife, paying extra attention to any fatty bits. The wholes will help the fat drain off and this is what creates the crispy skin.

Rub your duck with salt and pop it in a roasting pan breast side up. I've found it works best if you use a rack or something on the bottom of your pay to keep the duck skin from sticking. Roast in the over for one hour.

Remove duck from the oven and flip it over. Poke it all over with your sharp knife. Roast breast side down for an hour.

Remove your duck. Poke it all over and flip it again. Roast your duck breast side up for another hour.

Remove, poke, and flip again. Roast breast side down for the final hour.

While it's roasting in the final hour, prepare your glaze. Put all the ingredients in a pot and boil them together to reduce. When it's thick enough to coat a spoon and sticky, remove it from the heat and set aside.

Remove your duck from the oven and crank the heat up to 400F. Flip your duck breast side up and brush it all over with your sticky glaze. When the over reaches the full temperature, pop the duck back in the oven for 5-10 minutes, until the glaze is sticky and hardened.

Let your duck rest for 15 minutes and then carve and enjoy!
If you've never tried roasting a whole duck before, I hope you give it a try.